Leadership 31-Day Challenge: Giving Consciousness
December can be one of the toughest months of the year for Extraordinary Leaders! In addition to wrapping up year-end business, you have the added stress of holiday activities, employees who are feeling the pressure of family expectations and financial challenges, extra celebration events, and the potential powder kegs surrounding all the various ways in which people honor the events occurring in December. It's enough to make any leader go a little crazy!
That's why we wanted to create a special challenge for the month of December, designed to refocus your thinking and ground you in the power of a Leadership Giving Consciousness. It ties in with the Extraordinary Leadership Core Ability of a Mentoring Mindset, and will go a long way toward creating a positive, powerful, engaging December for you and your team. We have created our first annual "Give the Gift of …" 31-day Challenge!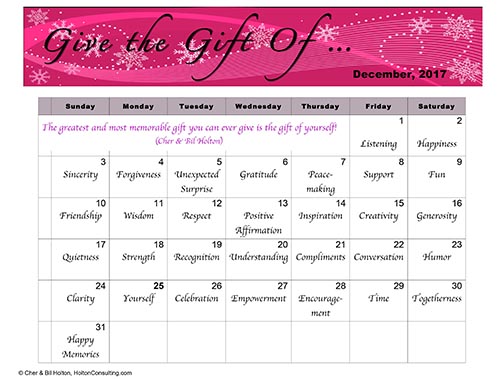 Here's how it works:
For every day in December, we have identified a rather vague and undefined focus area. Your challenge is to:
Decide what the focus area means to you. Consider what leadership skills are tied to the particular focus of the day, and what specific ways you can give to your team members, colleagues, and others with whom you work. (Note: You can also take the focus area home with you, and continue the giving in other ways with your family and friends. This stuff works everywhere!)

Throughout the day, find as many ways as possible to give, based on how you defined the focus area of the day.

Your goal is to find a least one opportunity to give for every waking hour of the day!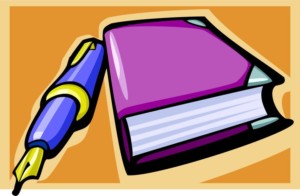 We encourage you to keep a journal, where every day you record the ways you found to give, along with your emotions and experiences. Here are some self-reflection questions to help you get the most out of the experience:
How many different ways did you find to give? Did your giving ideas extend to each and every employee you manage?

What was the most unique?

What was the most fun?

What was the most challenging?

How did this Giving Challenge affect you emotionally? What impact did you notice it having on those around you?

What lessons can you take away from this activity that will stay with you as you move forward?
As a bonus activity, you can make copies of the "Give the Gift of …" calendar and share the challenge with others on your team. It can generate very interesting discussions that strengthen team relationships!
Never forget this powerful Truth: The greatest and most powerful gift you can ever give as an Extraordinary Leader is the gift of yourself!
Click here to download your PDF version of this Give the Gift Of … Calendar!