Are You a Leader Who Drives Engagement? 
Consultants, practitioners and academicians have argued that an engaged workforce can create competitive advantage. These researchers and consultants say that it is absolutely imperative for leaders to identify the level of engagement in their organizations and implement intrinsic incentives that foster full engagement.
A senior manager in a recent executive education summit on employee engagement got a roomful of laughs when he told the following joke: A CEO was asked how many people work in his company: 'A little less than half of them,' he responded. After the session, dozens of participants put a more serious face on the employee engagement dilemma. They collectively bemoaned the fact that, in their organizations, a significant number of people had mentally and emotionally 'checked out.' They were not using their skills, education, talents and abilities to strengthen team relationships or improve customer service.
Quite clearly, CEOs, site managers and department managers should be very concerned about a waste of time, effort and resources in their organizations. The reason is simple: If your people are not engaged, how can you achieve the business objectives that are critical to improving your organization's performance?
What is employee engagement?
What is your definition of employee engagement? How much does wimpy, blah, and passive employee engagement cost your organization? What steps can you take to invite your employees to want to give their best?
To put it succinctly, engaged employees are people who are fully involved in, completely invested in, and enthusiastic about, the work they do:
Truly engaged employees are attracted to, and absolutely inspired by, their work. ("I want to do this. I'd even do it for no pay." )

They are genuinely committed. ("I'm dedicated to the success of my company and what I'm am doing to contribute to that success.")

Engaged employees tend to be curious. ("I am always looking for new ways to make things better. I keep asking, How can we be unique?")

Engaged employees recognize the impact of the bottom line, and care about the company's success. They are willing to go the extra mile when necessary. ("The job's done when the job's done. If it takes a little extra time, so be it!")
Creating an engagement-rich work environment is, simply put, a necessary long term retention initiative. The need to do so is supported by a 1998 McKinsey & Co. study entitled The War for Talent that found a shortage of skilled, competent, and committed employees was an emerging trend. It will probably come as no surprise to you that it's still a bothersome trend today.
How much should you be concerned about depreciating employee engagement?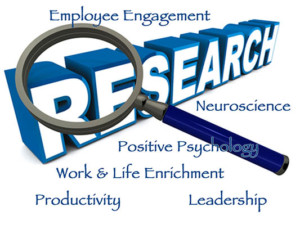 I believe you should be aware and vigilant about the level of engagement in your organization. For example, the Gallup Management Journal publishes a semi-annual Employment Engagement Index. The most recent U.S. results (2013) indicate that:
Only 29% of employees are actively engaged in their jobs. These employees are passionate about their work and feel a profound connection to their company's vision and mission.
Nearly 54% of employees are not credibly engaged. These employees have essentially 'checked out.' They are essentially sleepwalking their way through their workday and putting clock time – not commitment – into their work. These people embody the old axiom: Some people mistake activity for accomplishment.
A whopping 17% of employees are actively – and sometimes arrogantly – disengaged. These employees are busy acting out their dissatisfaction and unhappiness by undermining what their engaged co-workers are trying to accomplish.
A Towers Perrin 2005 Global Workforce Survey, which involved about 85,000 people working full-time for large and midsized companies, found similarly alarming findings. The survey reported that on a country-by-country basis, the percentages of highly engaged, moderately engaged, and actively disengaged employees varied considerably.
For example, Mexico and Brazil had the highest percentages of engaged employees, while Japan and Italy had the largest number of disengaged employees. In their report, the researchers interpreted these findings as an indication that employee engagement has relatively little to do with worldwide economic conditions. Instead, it seems to be tied to the nature of the work experience in each particular culture that influences the degree of engagement.
Does higher engagement really affect the bottom line appreciably?
In a word – Absolutely! You betcha! For example, recent meta-analysis of the link between job demands, resources, and engagement published in the Journal of Applied Psychology (2011) concluded that job resources such as knowledge, autonomy, and a supportive environment that motivates employees was positively related to increased engagement. Task performance and organizational commitment were much higher in engaged employees who conscientiously took pride in their productivity and were, as a result, 93% more productive than their disengaged counterparts.
In a related study in the Journal of Organizational Effectiveness: People and Performance (2015), researchers conclude that organizations need to move beyond the routine, more traditional administration of annual engagement surveys. They must embed engagement in company policies and practices such as personnel selection, socialization, performance management, work culture and norms, and training and development. When they do, the engagement figures approach 50-58%, up from 28-29%. They showed that employee engagement does not merely correlate with bottom line results – it drives results.
Honest employee engagement affects the mindset of employees at all levels in your organization. Why? Because engaged employees believe they are making a difference and can continue to make a difference in the organizations they work for. Confidence and trust in the knowledge, skills, and abilities that people possess – in both themselves and others – has proven to be a powerful predictor of behavior and job performance in the vast majority of employee engagement related studies around the world:
Nearly 82% of highly engaged employees believe they can positively impact the quality of their organization's products, compared with only 31% of the disengaged.
76% of highly engaged employees believe they can categorically affect customer service, versus 21% of the disengaged.
65% of highly engaged employees believe they can positively impact the costs associated with their jobs, compared with just 9% of the disengaged.
Given these global averages, it is not difficult to understand that companies that cultivate an engagement-rich culture outperform their competition. Highly engaged cultures know the difference between compliance and commitment. Employee engagement makes a bottom line difference. It sets great organizations apart from the merely good ones.
---
---
Twelve qualities of an engagement-focused leader
Check yourself against these qualities of engagement-driven leaders, and see how you stack up. If you really want to know, ask your people to evaluate you!
Show you care, respect and value your employees

Provide challenging and meaningful work filled with opportunities for career advancement.

Instill the confidence that any and all challenges can be met.

Communicate a no-nonsense vision that clarifies what your organization stands for, what it wants to achieve, and how people can contribute their talents and skills to the organization's success.

Disseminate information for the express purpose of teaching people how to work together to achieve common organizational goals.

Clarify expectations about employees and provide feedback on their roles, accountabilities, and responsibilities in their organization. That means establishing processes and procedures that help people master any and all critical success factors.

Work daily to improve the skills of your people and create small wins that help employees want to perform their best.

Make it a habit to compliment your employees often.

Help employees see the connection between their work and the strategic objectives of the company.

Let employees know how important an engagement-rich environment is … and how each person contributes to it.

Allow smart people anywhere in the company to have the wherewithal to drive an important initiative.

Create confidence, credibility, and trust by exemplifying high ethical, moral and performance standards.
No matter how you did on the checklist, now you can use it as an action plan. Choose one of the items on the list, and ask the question "HOW?" Then begin changing your behavior to add in the new actions. Once you are comfortable with the new behavior and feel like it is becoming part of your leadership repertoire, choose another item from the list and do the same thing: Ask yourself "HOW?" and then begin adding the new actions into your behavior. Before you know it, your people will notice the difference — and you will see huge changes in the levels of engagement, commitment, creativity, and productivity!
=== WOULD YOU LIKE A FREE COPY OF OUR ENGAGEMENT-DRIVEN LEADERSHIP CHECKLIST? ====
© 2016 Cher Holton, HoltonConsulting.com