These are our print books — the real "hold in your hand
and turn the pages" kind of books!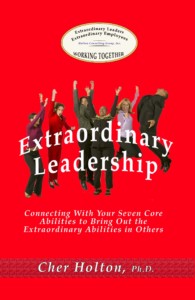 Extraordinary Leadership: Connecting With Your Seven Core Abilities to Bring Out the Extraordinary Abilities in Others (Cher Holton, Ph.D.)
All the great leadership techniques in the world won't work if you aren't maximizing your seven Core Abilities as a leader. The transformational leadership book introduces you to your incredible Core Abilities and shows you how to connect with them to become an Extraordinary Leader! Includes in-depth discussion about each Core Ability, tips to strengthen them, Laser Focus Techniques, and Self-Directed Learning Activities. (ISBN 978-1-893095-97-7. Soft cover; 186 pp. – 21.95)
Read more about this book, and download a sample.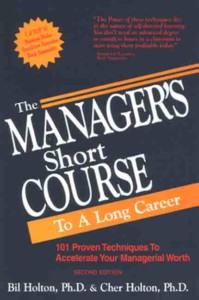 The Manager's Short Course to a Long Career (Bil Holton, Ph.D. & Cher Holton, Ph.D.)
In management, as in life, classroom training can only do so much.  It takes real-world experiences to develop skills that will work in the real world.  This book offers 101 self-directed tactics and activities designed to develop or upgrade leadership skills … without attending classroom training!  The comprehensive skills inventory in the back helps leaders determine and articulate specific needs, and is cross-referenced with the prescriptions to provide measurable developmental activities for mentoring as well as performance improvement. Selected as one of the top 30 business books by Soundview Executive Summaries. (ISBN 978-1-893095-00-7. Soft cover; 240 pp. – 21.95)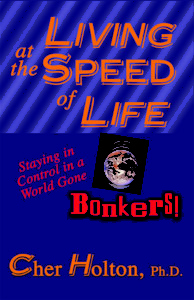 Living at the Speed of Life: Staying in Control in a World Gone Bonkers! (Cher Holton, Ph.D.) 
This is not your typical self-improvement text! It is a do-able, practical, easy-to-use guide for daily living. Using a unique icon system, readers can easily locate research, tools, guiding principles, stories, quotes, news articles, self-directed activities or questions/answers related to seven key areas essential to living in today's fast-paced world: conquering fear and doubt; enjoying good physical and mental health; communicating effectively; building a prosperity consciousness; creating joy and meaning in your work; enriching interpersonal relationships; and transforming time robbers. (ISBN 978-1-893095-03-8. Soft cover; 277 pp. – 21.95)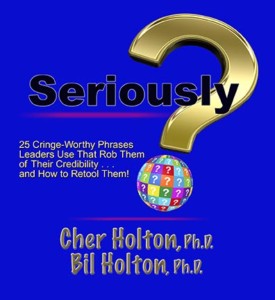 Seriously? 25 Cringe-Worthy Phrases Leaders Use That Rob Them of Their Credibility … and How to Retool Them! (Cher Holton/Bil Holton)
This little management jewel is both profoundly simple and simply profound! Are you sabotaging your credibility and effectiveness as a leader, simply because of the words you are using? Can words make that much difference? Seriously? YES! Packed with leadership wisdom and tips, this small, easy to read book will rock you world — and make you a better leader as well!
(Size: 5.5 x 6)  (ISBN 978-1-893095-92-2. Soft cover. 196 pp.  15.95)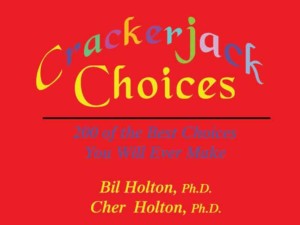 Crackerjack Choices: 200 of the Best Choices You Will Ever Make  

(Bil Holton, Ph.D. and Cher Holton, Ph.D.)
­
This amazing little book is a treasure! You will discover 200 of the BEST choices you will ever make, such as: #4 –
Be fair, without being fair game
; #23 –
Define the lifestyle you want—and then wrap your work around it
; and #187 –
Don't ever—not even for a moment, not even for a second—confuse your net worth with your self-worth
. Includes a powerful
ChoiceMap
™ designed to guide you through the decision-making process. (Size: 4 1/2 x 6″)      
(ISBN 978-1-893095-35-9.  Soft cover, 104 pp. 9.95)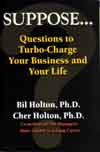 Suppose . . . Questions to Turbo-Charge Your Business and Your Life (Bil Holton, Ph.D. and Cher Holton, Ph.D.) Anyone who wants to build strong relationships – in business or in life – must add this valuable and unique resource to their library. Filled with 444 provocative questions designed to inspire discussion and team building, this book is perfect for meeting planners, managers, team leaders, trainers and ordinary people who just want to add a spark of fun to their next get-together. Includes a section with specific recommendations on how the book can be used, and a cross-referenced index matching questions with specific needs, such as: advanced team building; clarifying roles and expectations; conflict management skills; decision making as a team; ice breakers/informal gatherings; mission/vision/values development; and sharing information/building relationships.
(ISBN 978-1-893095-04-5. Soft cover; 175 pp. – 15.95)
Suppose… IS PERFECT FOR FAMILIES AND FUN GATHERINGS!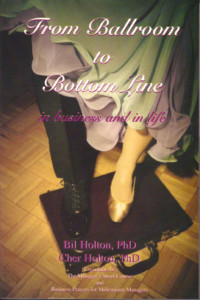 From Ballroom to Bottom Line – In Business and In Life (Bil Holton, Ph.D. and Cher Holton, Ph.D.)
It doesn't matter whether you are talking about a business team, a volunteer group, a contractor relationship, a circle of close friends, a special-projects team, a romantic couple, a sports team or a family. The same skills that make a ballroom dance couple successful apply to these partnerships as well. Perfect for the busy reader, each minichapter focuses on an aspect of ballroom dancing, with an application of the idea as it relates to partnerships in business and in life. Each section concludes with a Tip From Your Coaches, focusing on how to add this concept to your repertoire and improve your dance through life. Throughout the book, you will also discoverDance Wisdom – quotes from Ballroom and DanceSport Champions who were kind enough to share their wisdom with us. There are also quotes by others – pieces of wisdom that have meant a lot to us as we've traveled the road of life in dancer's shoes. (ISBN 978-1-893095-05-2. Soft cover; 165 pp. – 15.95)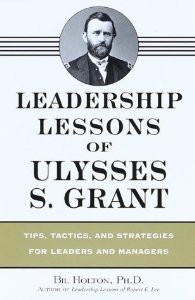 Leadership Lessons of Ulysses S. Grant (Bil Holton, Ph.D.) – This book, a companion copy to Leadership Lessons of Robert E. Lee, contains almost 200 bits of Ulysses S. Grant's timeless wisdom, poignant stories, and insightful commentary to today's leaders, managers and teams. Whether your organization is high tech or high touch, manufacturing or service, biotech or telecommunications, you'll see the direct application of Grant's leadership wisdom to your bottomline.  Read about issues such as: Hole Management, Cross-Functional Teams, Re-engineering, Best Practices, and Continuous Improvement.   
(ISBN978-0517161807. Hard cover, 153 pp. – $14.95)
ANTHOLOGIES (Compiled and published by the Holtons):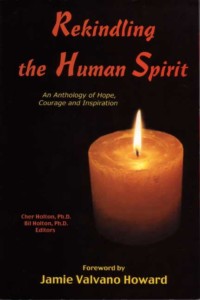 Rekindling the Human Spirit: An Anthology of Hope, Courage, and Inspiration  (Bil Holton, Ph.D and Cher Holton, Ph.D., editors) ­–
Fifty-six contributors have filled this unique anthology with tools, strategies, inspiring words, and illustrations to encourage and uplift people during tough times. When the wisdom, courage, determination, resilience, and indomitable spirit of positive people are passed on to future generations, the whole world benefits. Features a powerful and inspiring Foreword Interview with Jamie Valvano Howard, daughter of the legendary NCSU basketball coach, Jim Valvano, remembering her father and honoring his legacy of hope, courage, and inspiration. (ISBN 978-1-893095-20-5.  Soft cover, 268 pp. 21.95)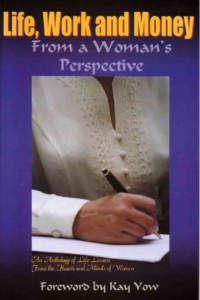 Life, Work and Money ~ From a Woman's Perspective: An Anthology of Life Lessons From the Hearts and Minds of Women  (Bil Holton, Ph.D and Cher Holton, Ph.D., editors) ­– Inspiration, wisdom, and practical tips from the hearts and souls of 14 professional women. With a Foreword by Kay Yow, former Head Coach, NCSU Women's Basketball, this book is for every man or woman who has faced the challenges of life – who needs a spiritual faith-lift – who longs for a rekindling of enthusiasm and hope. Fourteen unique and inspirational chapters that you will treasure and revisit often.
(ISBN 978-1-893095-15-1.  Soft cover, 248 pp. 21.95)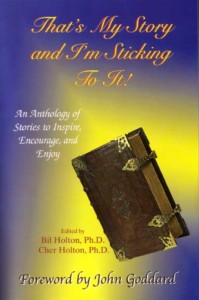 That's My Story and I'm Sticking To It! An Anthology of Stories to Inspire, Encourage, and Enjoy (Bil Holton, Ph.D and Cher Holton, Ph.D., editors) With an inspiring Foreword by world explorer and adventurer John Goddard, this wonderful gem is a storehouse of inspiration, survivorship, and dramatic turnarounds in people's lives, combined with snippets of joy, playfulness, and simplicity of everyday life. Experience the stories that reveal a glimpse into the incredible richness and abiding strength of the human spirit.
(ISBN 978-1-893095-32-8.  Soft cover, 173 pp. 21.95)