These are our print books — the real "hold in your hand
and turn the pages" kind of books!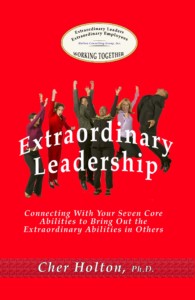 Extraordinary Leadership: Connecting With Your Seven Core Abilities to Bring Out the Extraordinary Abilities in Others (Cher Holton, Ph.D.)
All the great leadership techniques in the world won't work if you aren't maximizing your seven Core Abilities as a leader. The transformational leadership book introduces you to your incredible Core Abilities and shows you how to connect with them to become an Extraordinary Leader! Includes in-depth discussion about each Core Ability, tips to strengthen them, Laser Focus Techniques, and Self-Directed Learning Activities. (ISBN 978-1-893095-97-7. Soft cover; 186 pp. – 21.95)
Read more about this book, and download a sample.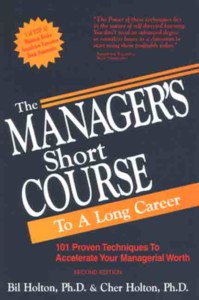 The Manager's Short Course to a Long Career (Bil Holton, Ph.D. & Cher Holton, Ph.D.)
In management, as in life, classroom training can only do so much.  It takes real-world experiences to develop skills that will work in the real world.  This book offers 101 self-directed tactics and activities designed to develop or upgrade leadership skills … without attending classroom training!  The comprehensive skills inventory in the back helps leaders determine and articulate specific needs, and is cross-referenced with the prescriptions to provide measurable developmental activities for mentoring as well as performance improvement. Selected as one of the top 30 business books by Soundview Executive Summaries. (ISBN 978-1-893095-00-7. Soft cover; 240 pp. – 21.95)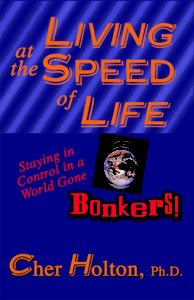 Living at the Speed of Life: Staying in Control in a World Gone Bonkers! (Cher Holton, Ph.D.) 
This is not your typical self-improvement text! It is a do-able, practical, easy-to-use guide for daily living. Using a unique icon system, readers can easily locate research, tools, guiding principles, stories, quotes, news articles, self-directed activities or questions/answers related to seven key areas essential to living in today's fast-paced world: conquering fear and doubt; enjoying good physical and mental health; communicating effectively; building a prosperity consciousness; creating joy and meaning in your work; enriching interpersonal relationships; and transforming time robbers. (ISBN 978-1-893095-03-8. Soft cover; 277 pp. – 21.95)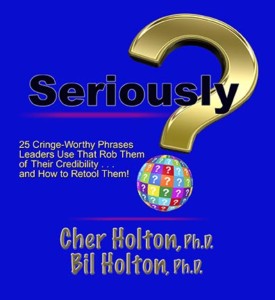 Seriously? 25 Cringe-Worthy Phrases Leaders Use That Rob Them of Their Credibility … and How to Retool Them! (Cher Holton/Bil Holton)
This little management jewel is both profoundly simple and simply profound! Are you sabotaging your credibility and effectiveness as a leader, simply because of the words you are using? Can words make that much difference? Seriously? YES! Packed with leadership wisdom and tips, this small, easy to read book will rock you world — and make you a better leader as well!
(Size: 5.5 x 6)  (ISBN 978-1-893095-92-2. Soft cover. 196 pp.  15.95)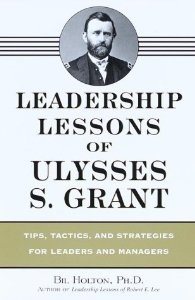 Leadership Lessons of Ulysses S. Grant (Bil Holton, Ph.D.) – This book, a companion copy to Leadership Lessons of Robert E. Lee, contains almost 200 bits of Ulysses S. Grant's timeless wisdom, poignant stories, and insightful commentary to today's leaders, managers and teams. Whether your organization is high tech or high touch, manufacturing or service, biotech or telecommunications, you'll see the direct application of Grant's leadership wisdom to your bottomline.  Read about issues such as: Hole Management, Cross-Functional Teams, Re-engineering, Best Practices, and Continuous Improvement.   
(ISBN978-0517161807. Hard cover, 153 pp. – $14.95)
ANTHOLOGIES (Compiled and published by the Holtons):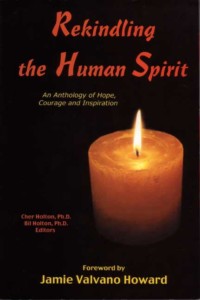 Rekindling the Human Spirit: An Anthology of Hope, Courage, and Inspiration  (Bil Holton, Ph.D and Cher Holton, Ph.D., editors) ­–
Fifty-six contributors have filled this unique anthology with tools, strategies, inspiring words, and illustrations to encourage and uplift people during tough times. When the wisdom, courage, determination, resilience, and indomitable spirit of positive people are passed on to future generations, the whole world benefits. Features a powerful and inspiring Foreword Interview with Jamie Valvano Howard, daughter of the legendary NCSU basketball coach, Jim Valvano, remembering her father and honoring his legacy of hope, courage, and inspiration. (ISBN 978-1-893095-20-5.  Soft cover, 268 pp. 21.95)